Order our Rugged Waterproof Pigeon River Country Map.
Discovery Center Mailing List
<!=========Events list Template 2.3.1=========>
Learn how to use your camera (or cell phone) to capture the beauty of the PRC. Class includes a short lecture, followed by a field trip into the PRC during […]
Find out more »
Visitors forage many varieties of edible mushrooms and plants in the Forest. Make your first several hunts with someone who is trained in identification. There are many inedible varieties that could be poisonous if misidentified.
One of the more popular mushrooms for our visitors is the Morel.
For the beginning mushroom hunter, morels are among the easiest to find and identify of the thousands of wild mushrooms found in Michigan.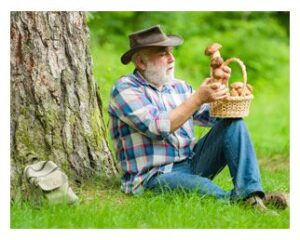 May is morel month in Michigan, but the actual fruiting period is from late April until mid-June, depending on the location and species.

Morels are not just found in the north – some of the best picking is in southern Michigan.

Morels found on public land are for personal use and cannot be sold!

Like all wild mushrooms, morels require specific conditions of temperature and moisture to grow. Some springs are good for morels, others poor. Warm and wet conditions are best, and cold and dry can mean almost total failure of the crop.
Bring a map and a compass or GPS unit when out in the forest to avoid getting lost off-trail.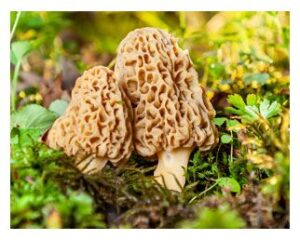 Wear sturdy, comfortable footwear, as you likely will have to go off the beaten path to find morels.
Be prepared to experience disappointments when searching for morels – some spots yield mushrooms year after year, while others skip years between crops.
Your "eye" for morels will sharpen with practice.
Never rake an area for morels or drive an off-road vehicle cross country. A healthy forest floor allows morels to grow.
Using a mesh bag (such as an onion bag) or a basket will allow your collected morels to stay dry; a plastic bag can speed up decay.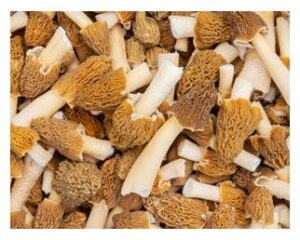 Large burn sites in forested areas are ideal for morel mushroom hunting, especially in burned areas where jack, white or red pine once grew. Grassy and other non forest areas are not as likely to produce morels. The DNR maintains an interactive map of burn areas that may indicate good mushrooming areas.
Know what you are eating! Know the difference between a "true" morel and the "false morels," such as beefsteak mushrooms, which are poisonous. Learn more about Moral mushroom identification.
Make your first several mushroom hunts, whether for morels or other edible mushrooms, with someone who knows mushrooms. Learn more about collecting and preparing mushrooms.
For more information on morel mushroom hunting in Michigan, visit the Pure Michigan or Midwest American Mycological Information websites.
Buy or download a mushroom guide, and be aware that updates may be needed as new information is published. A mushroom identification booklet is available on the U.S. Department of Agriculture website.
Many of Michigan's universities and community colleges offer adult education courses on mushrooms, and enrolling in one may be a good way to get started.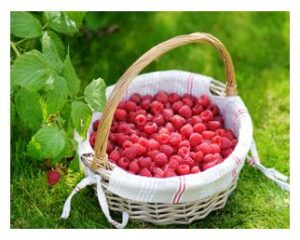 Juicy wild berries right off the stem or baked into a cobbler are a tasty seasonal delight for hikers and gatherers. Some berries found in Michigan include brambles (raspberries and blackberries), blueberries, strawberries and juneberries.
Properly identify any wild fruit before eating it, and be aware that some people may have allergies to some varieties of berries. When gathering, leave some berries so plants can continue to grow and reproduce, and wildlife can have a share, too.